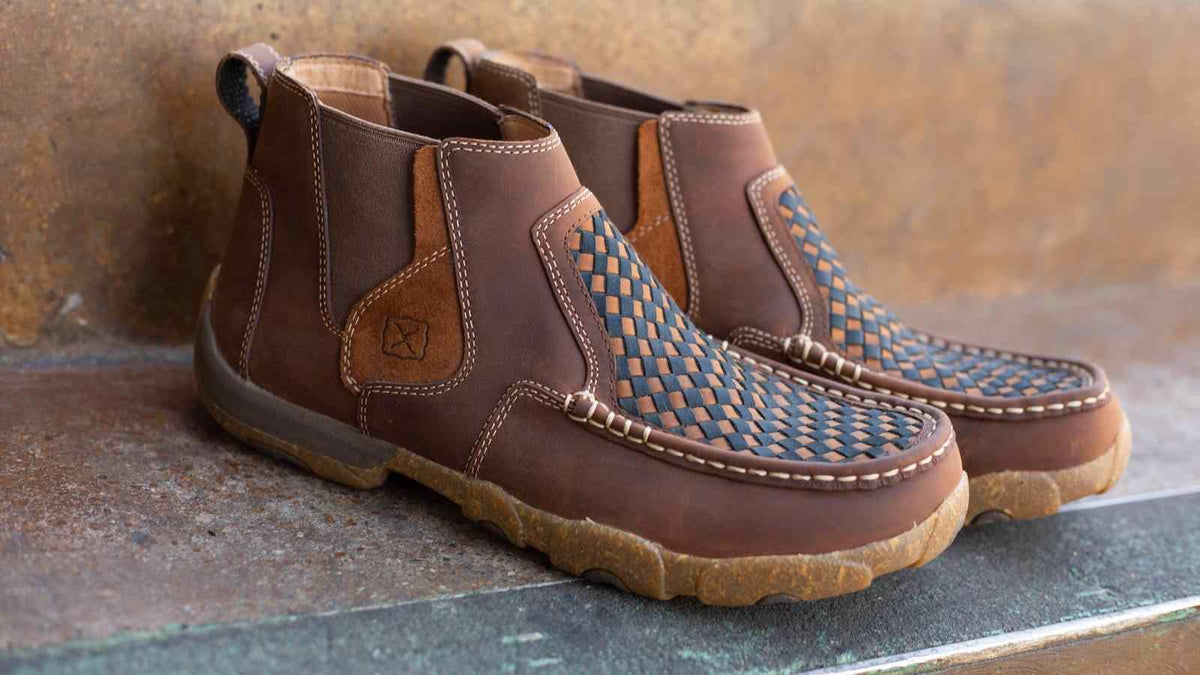 Seasonal Swagger: Mastering Men's Footwear this Fall
Don't count the men out on stylish trends for fall! With more layers making their way to the front of his closet, he needs a shoe selection to match denim jeans, sweaters, jackets, and more. From a laid-back casual feel, to shined up boots for stepping out, we recommend these styles for a crisp and polished fall wardrobe he'll love - no extra effort needed!
GAME DAY READY
Suit up for the big game in casuals that will take you through football season in peak comfort and sport-friendly style.
CellStretch® Wedge Sole Slip-On (MCAX004)
Slip into tailgate-ready style in a pair of weather proof casuals you'll live in all season long. Featuring acid-resistant BarnShield™ leather, you can support your team rain or shine - no questions asked.
Kicks (MCA0056)
Lace up this lightweight, eco-friendly style for all-day comfort! These Kicks are breathable and utilize recycled materials in their streamlined design. The black and tan colorway is an all-around winner to throw on and go with every fall outfit!
Zero-X™ (MZX0005)
Go ahead, get on your feet for your favorite team - this pair of Zero-X casuals will support you until the end of the last quarter! Airy materials and low-waste construction come together to create a shoe that's reliable from the tailgate to the after party.
 
Chukka Driving Moc (MDM0003)
Lean into the classics with a rugged Chukka Driving Moc for game day grill outs. Made with full-grain leather and top-notch comfort features including the iconic Twisted X® insole, the Driving Moc is a sure bet for endless comfort this season.
AROUND THE HOUSE
Keep it cozy with styles that will carry you through around-the-house Saturdays filled with relaxation and kicking back in maximum comfort.
Slip-On Loafer (MXCG001)
Breeze through the honey-do list in the perfect pair of rugged loafers! From raking endless piles of leaves to hanging fall wreaths on the front porch, you can embrace time spent outdoors in effortless, slip-on comfort.
Slipper (MSR0001)
Full-grain leather and genuine shearling come together to craft the ideal slipper for cozy nights around the house. Meant to wrap your feet in warmth, this slipper will be the first thing you want to pull on during those chilly mornings.
Kicks (MCA0055)
Lace up this versatile shoe for easygoing days around the ranch. Feed the horses, check cows, or sit on the porch with your beverage of choice - these shoes are stylish and well-rounded for whatever comes up in the barn or around the house.
Zero-X (MZXS001)
Meet your new favorite kick-around shoe! With an easy slip-on design and lightweight construction, this shoe lets you keep up with kids playing in the yard or dogs running out in the pasture.
IN THE ELEMENTS
Chukka Driving Moc (MDM0093)
Keep your feet warm on the go in a pair of shearling-lined Chukka Driving Mocs. Constructed with full-grain leather in the classic Driving Moc style, these are the cold-weather version of everyone's favorite Western casual.

 4" Chelsea Driving Moc (MDMG005)
Step outside your comfort zone in this fashion-forward Chelsea-style Driving Moc, perfect for outdoor activities. Easily slip into this style to rove the cattle pasture or check fences with tall grass. You'll be protected and comfortable, not to mention on the cutting edge of Western style.
Slip-On Driving Moc (MXC0007)
EcoTWX® Tweed and full-grain leather come together to create a durable casual that holds up to any challenge you throw at it! Hunter green fabric is the perfect seasonal hue for outdoor activities to last all autumn long.

6" CellStretch Wedge Sole Boot (MCAXW01)
Get serious about your to-do list around the farm or ranch in a pair of boots that hold up to heavy duty challenges. The 6" CellStretch Wedge Sole Boot is built for the elements; featuring a waterproof lining and wax-coated leather for defense against moisture while the molded rubber outsole ensures long-standing comfort.