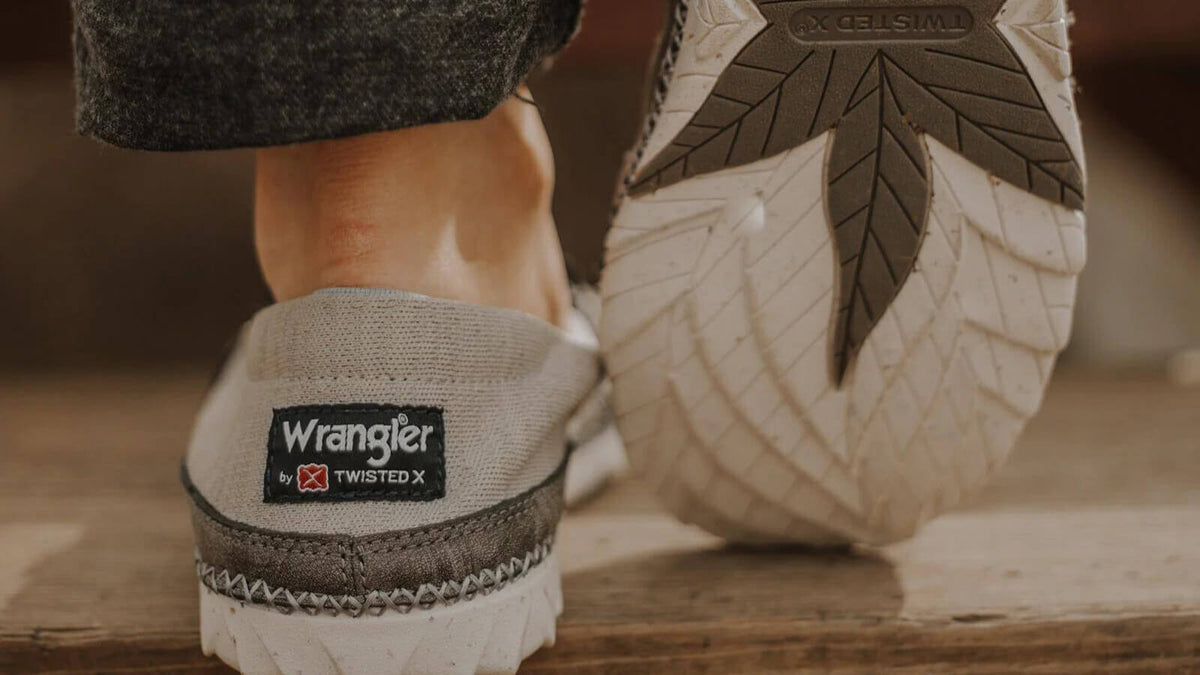 Twisted X + Wrangler: Celebrating Iconic Western Heritage and Mutual Love of the Land
Many of us know that the right pair of shoes (or boots) can make (or break) an outfit, but have you considered how the manufacturing and production practices behind your entire wardrobe might be affecting the planet?
Sustainability consulting firm Quantis reports that shoe production accounts for 1/5th of the fashion industry's total environmental impact, generating 1.4% of total carbon emissions. It's bleak statistics like these that are motivating companies in the footwear and apparel industries to change their practices and focus on being more sustainable—including Twisted X and Wrangler, who just announced the launch of a limited-edition, collaborative collection in honor of Wrangler's 75th anniversary and in celebration of a mutual love and responsibility for planet Earth.
Twisted X, already a leader in sustainable footwear, and Wrangler, a global jeanswear and casual apparel icon, united on a common mission: to provide comfortable, eco-friendly footwear that compliments your favorite pair of jeans while also protecting the planet.
The commemorative collection will include four new Zero-X no-glue shoes from Twisted X that incorporate sustainable materials and a double-stitching process that eliminates the use of harmful, chemical-based glues that pollute the environment. It will also feature a range of sustainable materials, including ecoTWX® fabric composed of upcycled plastic bottles and leatherTWX™ fabric that utilizes 80% recycled scrap leather that would otherwise end up in landfills. Additional features include an outsole made with blended rice husk, an agricultural by-product, and a biobased midsole derived from castor beans.
"It is exciting to work with an iconic brand like Wrangler that prioritizes the same core values and shares our rich western heritage," said Prasad Reddy, CEO of Twisted X. "Sustainability is in our DNA, and it's the backbone of everything we do. This collection demonstrates our continued commitment to ensuring every pair of footwear produced by Twisted X in 2022 and beyond includes at least one sustainable element."  
Each pair in the Twisted X and Wrangler collection will also feature a commemorative logo that celebrates Wrangler's monumental 75th anniversary, and Twisted X has committed to planting a tree for every pair of Zero-X shoes sold through a partnership with One Tree Planted®. 
"This is a major milestone for Wrangler, and we're proud to continue our expansion and innovation into the category of footwear with a like-minded iconic western brand," said Allen Montgomery, Wrangler's Vice President of North America Western and Workwear. "We're thrilled to work with Twisted X once more to create this unique collection in honor of our special anniversary."
Learn more about Wrangler shoes by Twisted X by visiting our website or exploring our collection at a local retailer near you.