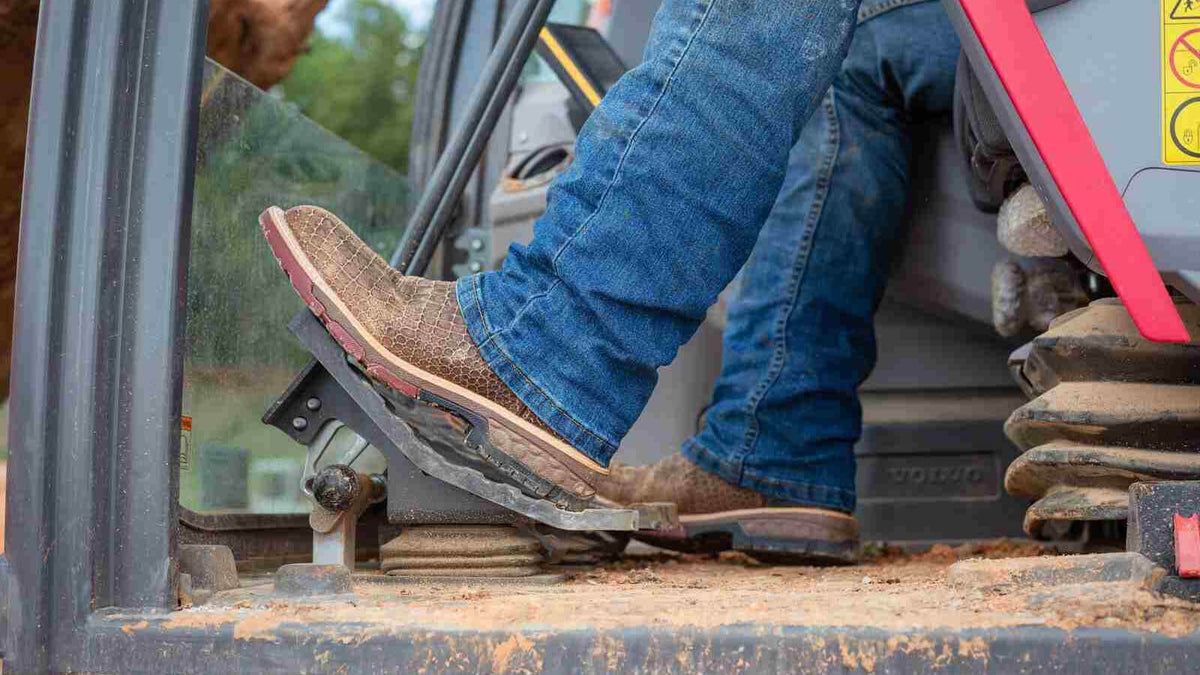 A little horse sense about Western work boots
Can you get safety features you need from a Western-style boot?
Ask anyone on the street to describe work boots and they'll probably conjure up images of chunky leather boots made to kick butt on construction sites. And in many cases, they wouldn't be wrong. But today, work boots come in all sorts of shapes and styles. One style gaining popularity is the Western work boot—not to be confused with traditional cowboy boots.
Make no mistake. Cowboy boots are work boots—if your work is cowboying. Western style boots have evolved over time, but there remain important differences between cowboy boots and Western-style work boots.
Western Work Boots: A Proud Heritage
Although riding boots have been around since the 10th century, Western cowboy boots can be traced back to the vaqueros, skilled horsemen and cattle herders of Spanish and Mexican heritage. As the American West grew, so did the need for footwear suitable for cowboys and ranchers. Specifically, cowboys needed a boot with a pointed toe to insert quickly in a stirrup, a distinctively angled heel to keep them balanced and connected there, and a higher shaft to protect calve areas while riding. The absence of sharp corners on the heel was easier on the horse. 
With the advent of industrialization in the late 19th century, cowboys transitioned into other occupations like mining, logging, and construction. There was a growing demand for work boots that performed well and offered protection off a horse. As such, Western-style boots evolved to more rugged work boots with thicker soles, reinforced toes, and improved traction for hazardous work environments.
But there's something iconic about Western boots. Their popularity transcended their functional horse-riding purpose, becoming a symbol of individuality, adventure, grit, and vitality. So it's no wonder that there's a growing demand for work boots that reflect that Western style. 
You may never find yourself atop a horse or be required to rope a mustang at work, but Western work boots can be appropriate for a variety of industries and work environments.
What makes a Western-style boot a "work boot?"
Unlike cowboy boots with hard leather outsoles, Western work boots are designed with slip-resistant treaded rubber outsoles. They generally reflect a "roper boot" style with straight half-inch heels rather than the angled "Cuban heel" found on cowboy boots. In other words, they're made for walking rather than riding. As such, cushioning midsoles make it much easier on the feet. 
Another difference is the toe box. Unlike traditional vaquero-style boots with pointed toes, Western work boots usually feature a wider toe. Most often, you'll find them with round or square toe profiles.
The materials used include high-quality full-grain leather to provide durability and flexibility; rubber for enhanced traction and resistance to oil, chemicals, and other workplace hazards; and in some cases, synthetic materials to improve breathability, moisture-wicking, or environmentally friendly manufacturing.
Of course, no work boot is complete without key safety features, such as: 
Safety toe caps, made from steel, alloy, or durable composite materials such as carbon fiber, or nanocomposites (often called nano toe) to help prevent toe injuries caused by heavy objects or equipment falling.




Puncture plates, strong yet thin, flexible inserts placed between the sole and insole to help protect against nails, sharp metal, shards of glass, and other debris from penetrating your work boot.




Slip-resistant outsoles, often made of rubber, designed with treads to provide traction on various surfaces, reducing the risk of slips and falls.



Electrical hazard protection, incorporated non-conductive materials or insulation to minimize the risk of electric shock; look for boots with "EH" on the ASTM label.
Unlike traditional work boots, Western style work boots don't have laces. This is not just a fashion decision. Should your foot get stuck, slip-on boots are easier to get out in an emergency than lace-up boots.   
Inside a good Western work boot, you'll find all sorts of features that enhance comfort. Look for pairs equipped with cushioned insoles and molded footbeds that provide support and shock absorption, promoting all-day comfort. Built-in arch support helps reduce foot fatigue and provides stability. Breathable linings with taped seams help regulate temperature, keep feet dry, and prevent blisters.
Get the right boot for the job.
Western-style work boots have a distinct style that celebrates the culture of the American West. While they may have been introduced on the range and on ranches, they are not limited to a specific working environment. Regardless of what region you live and work, you might find your Western work boots ideal for your job.
Certainly, you'll find them holding their own in agricultural settings such as farms, ranches, and livestock operations. Western work boots provide ankle protection against potentially hazardous equipment and are designed to withstand rough terrain and cluttered stalls and still look good at the end of the day. Viperguard by Twisted X protects from piercing fangs and lethal venom.
But they also have a place anywhere that demands physical labor. Because they feature reinforced toes, slip-resistant soles, and sturdy construction, they're suitable for construction sites, warehouses, outdoors for landscaping work, nurseries, oilfields, mining operations, factory floors, and anywhere else you'll be on your feet all day. 
Most likely, your business has specific requirements for personal protection equipment, including footwear. Make sure you understand your workplace's safety requirements and choose a work boot that's made for the job. For example, if you need electric hazard protection, your boots should have an EH-rating. If you're working in wet, slippery conditions, choose a boot that offers water-resistance and the most stability. 
Also look for high-quality materials that are made to last—especially for the outsole and the upper materials. For uppers, full-grain leather is long-lasting and offers excellent water resistance. For soles, you'll want anti-slip materials. And since you'll be wearing your work boots for long hours, it's important to choose a pair that is comfortable and offers good support. Look for boots with ample cushioning, arch support, and a breathable lining.
As for fit, your Western work boot should be snug at the instep but not tight. Leather will break in and stretch over time but don't bet the ranch expecting an uncomfortable boot to become suddenly comfortable with wear. 
How to care for Western work boots
To ensure that your boots last longer, follow these care tips:
Clean your boots regularly using a soft brush and mild soap. Grime can dry out leather and rubber and cause it to crack. Regular cleaning will help your boots to last longer.




Allow the boots to dry naturally after cleaning. Avoid direct heat.




Condition leather regularly. Leather has pores and natural oils to remain in good condition. Using a leather protective or conditioning cream or polish at least every 3 to 6 months will help keep your boots from drying out and cracking.



Store your boots in a cool and dry place when not in use.
Now cowboy up and pick your boot.
Practical and stylish, Western work boots can be a great choice for safety shoes. At Twisted X®, we craft work boots in all sizes and shapes—as innovatively and environmentally friendly as possible. 
Crafted with full-grain leathers, they offer the support and safety you need to survive the work day. Other quality features include double-stitched and storm welts, composite and nanocomposite safety toes, full-length composite insoles, lightweight full-length compression-molded EVA midsoles, and oil- and slip-resistant molded-rubber outsoles. 
Explore our collection of Western work boots and choose the safety features you need with the styles you want. Or visit a local retailer today.