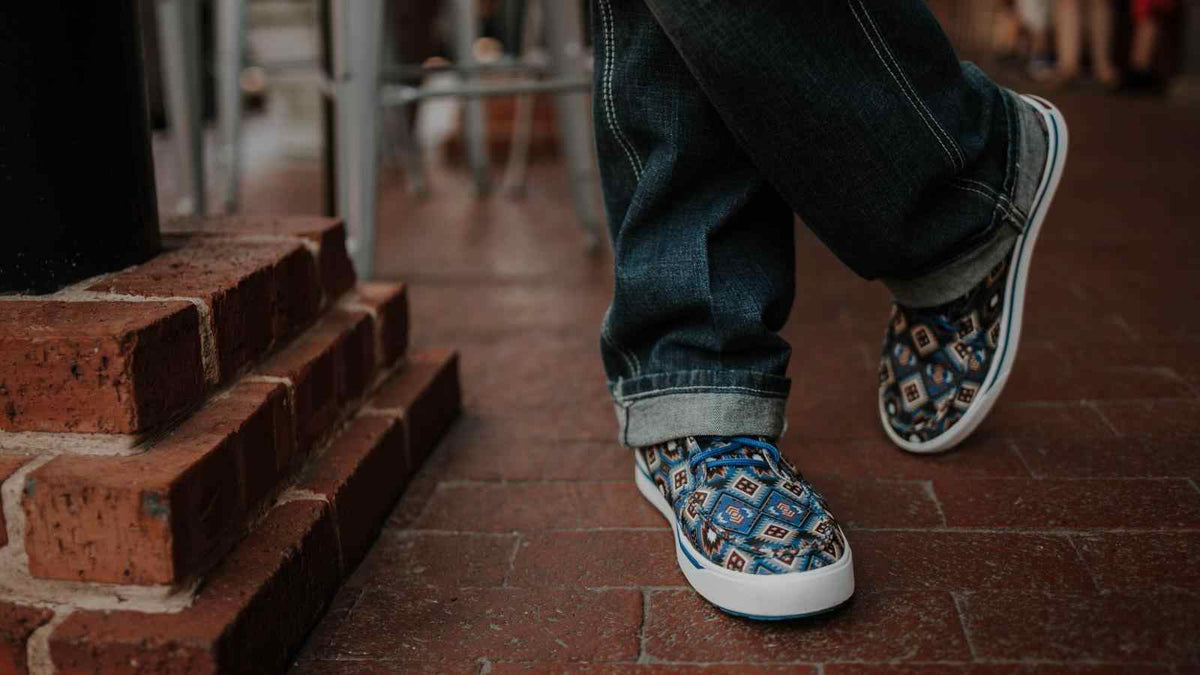 Fall Trends: Navy Blue Men's Boots and Kicks
Could Navy Blue be the new black? It's hard to replace the classics but we think you should make room in your wardrobe for Navy Blue this season! Navy is a great neutral that will blend with staple colors you're already reaching for in your closet. White, beige, chocolate, and gray all become standouts with a touch of Navy, especially when incorporated into your footwear. Keep reading to see a few of our Navy favorites you can wear from day to night while staying sharp with minimal effort!
Keeping it Casual with Navy Men's Boots and Kicks
Slip-On Kicks (MCA0058)
Stay on the move in style with these fashion-forward slip-on Kicks! Blue woven leather detailing adds a trendy edge to this classic casual style. Kick back effortlessly, whether you're checking off your to-do list or cheering on your team at the tailgate!
Zero-X™ (MZX0008)
Breathe easy knowing you're reducing waste with every step. Not only are these Navy Zero-X casuals breathably light and comfortable, but they also feature the latest in sustainable footwear technology. Lace up to support eco-friendly practices without compromising style, durability, or comfort. It's the best of all worlds! 
Kicks (MCA0049)
Want to up your day-to-day fashion game? Don't be afraid to add some patterns! This blue-based southwestern geometric design has the winning combination of style and symmetry that are sure to turn heads while you're out and about. These graphic Kicks look incredible with jeans for style on the go. 
Around The Ranch
12" Tech X™ Boot (MXTR004)
Elevate your everyday boot with the right combination of color and smart design. The 12" Tech X boot has a reputation for reliable durability and this colorway is perfectly on-trend for fall. Days on horseback have never been so stylish, outfitted in chocolate leather with a rich blue upper, and finished with stitching that adds the perfect complement. You'll move with a spring in your step from stall to saddle!
12" Tech X Boot (MXTL005)
Step out in a bold statement boot. This eye-catching blue suede layered beneath dark denim offers a classic edge that is hard to compete with. Not to mention, our CellStretch® technology tops it off with supreme comfort. This patriotic boot will have you feeling proud and free,  wherever your feet should roam. 
12" Rancher (MRAL029)
Pull out your dancing shoes - better yet, boots! This 12" Rancher goes from saddle to dance hall, effortlessly. Enduring design comes standard in the Rancher which features top-notch, full-grain leathers, and a classic boot silhouette that goes with your favorite starched going-out jeans and best cowboy hat. The timeless leather sole ensures smooth moves on the dance floor for nights filled with two-stepping!
12" Western Work Boot (MXBW008)
Long days on the jobsite require the best in comfort and durability to take on whatever the day throws at you. Do your best work while embracing Western style in this 12" Western Work Boot. Featuring intricate stitching and embroidery on a Navy upper, this boot doesn't skimp on style, and still manages to carry its weight with tough features like a waterproof lining, reinforced pullholes, and a nylon/glass fiber shank for protection. CellStretch® technology also makes an appearance in the forefoot and heel for extra cushioning, making this style the boot that can truly do it all.
Learn more about the Twisted X Footwear Collection, and explore all your navy blue options by visiting our website or exploring our collection at a local retailer near you.