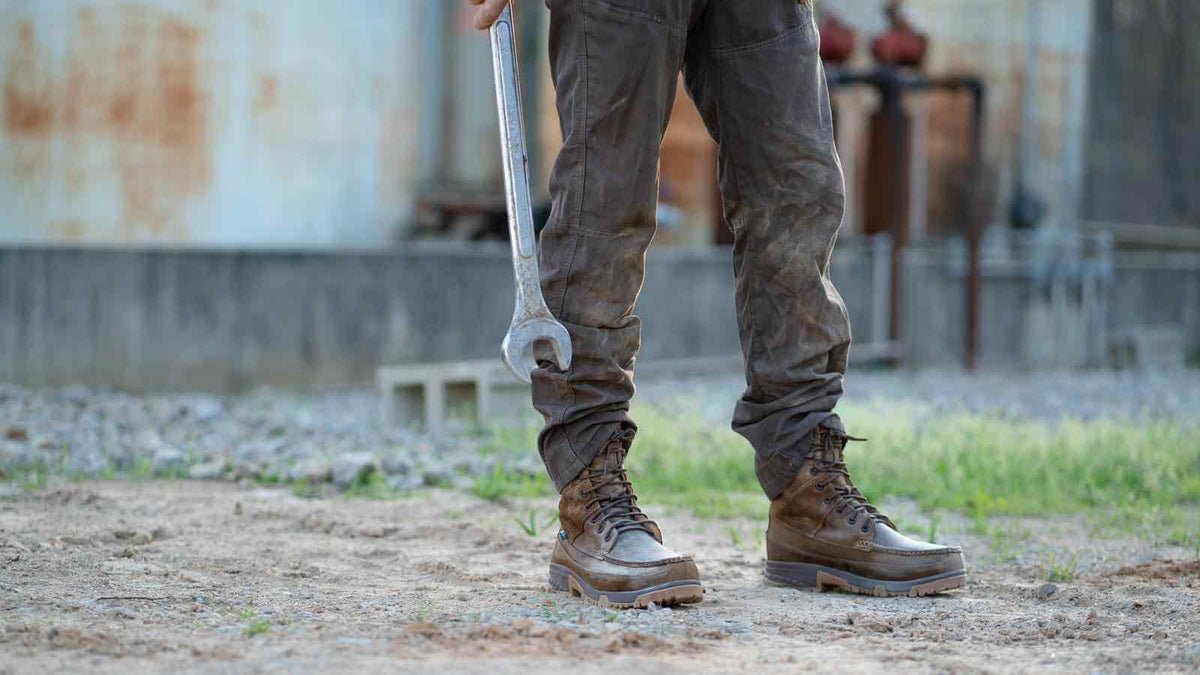 Lightweight composite toe work boots -Light(er) on your feet
If you're on your feet all day working, you're putting your dogs through their paces—all 52 bones, 66 joints, and more than 200 muscles, tendons, and ligaments mysteriously designed to keep you upright and mobile. No doubt, the human foot is a marvel of biological engineering, much like your favorite work boots are a marvel of technological engineering. When healthy and functioning right, your feet endure a tremendous amount of shock and abuse during the workday—but you can reduce the shock and abuse with a pair of comfortable composite-toe work boots. What you wear on your feet and how you treat your body impacts how you feel overall at the end of the day when you take off your boots and kick up your feet.
So, the question is: are your work boots beating your feet … or treating them? The difference between a tiresome workday and a productive one might be measured in ounces: the weight of your work boot.

Lightweight composite toe work boots can provide increased comfort, reduced fatigue, and better mobility, making them an excellent choice if you work long hours on your feet in demanding environments. 
Increased comfort: Compared to traditional steel toe work boots, composite toe boots are significantly lighter, which can reduce the strain on your feet and legs and help you move more freely and comfortably throughout your day.



Reduced fatigue: Professionals like construction workers, warehouse employees, and farmhands put in a lot of steps each day. Lightweight composite toe work boots can help reduce fatigue by easing the burden on lower limbs.
Who can benefit from light weight composite toe work boots?
For both safety and comfort, lightweight composite toe work boots are versatile options for a variety of professions and activities, including: 
Construction: Construction workers face multiple hazards every day. Lightweight composite toe work boots provide protection against falling objects without adding excessive weight, allowing for better mobility and reduced fatigue. 




Landscaping and gardening: Lightweight composite toe work boots offer protection from sharp objects like gardening tools, thorns, and rocks while providing stability and support on uneven surfaces and rugged terrains. 




Warehouse and logistics: While still protecting from falling objects or accidental impact, lighter work boots help prevent unnecessary strain on the feet and legs during long hours of standing or walking. 




Manufacturing, utilities, and industrial settings: For environments with heavy machinery, sharp tools, and hazardous materials, composite toe protection can still meet ASTM and OSHA requirements. In these environments, you'll also want slip-resistant soles and electrical hazard protection. 



Transportation and delivery: Delivery drivers, truckers, and workers in the transportation industry spend extended periods on their feet, handling heavy loads, and maneuvering in different environments. Composite toe work boots provide protection during loading and unloading activities and ensure comfort during long hours of driving or walking.
The suitability of lightweight composite toe work boots may vary depending on your specific job requirements and safety regulations. Always consult your current safety guidelines and workplace policies to ensure you have the appropriate footwear.
Materials matter. 
The process of creating lightweight composite toe work boots involves layering composite materials—such as fiberglass or carbon fiber—in a mold, which is then subjected to heat and pressure to ensure proper bonding and structural integrity. The result is a lightweight yet sturdy toe cap that meets or exceeds safety requirements while providing the wearer with comfort and mobility. 
Of course, you'll want to look beyond the toe cap to find your ideal work boot. Handcrafted from full-grain leather or durable eco-friendly synthetics, Twisted X® composite and nano-toe work boots offer several extra safety features, such as: 
duraTWX, a breathable, water-resistant, anti-abrasive and anti-corrosive hybrid performance leather designed for extreme weather 




MetGuard™, a thermoplastic urethane shield to protect your top instep Viperguard, to keep you protected from snakebites and lethal venom 




CellStretch®, comfort technology that compresses and rebounds with every step 




CellSole®, a footbed that delivers all-day cushioning and support



And more
If work is getting hard on your feet, lighten up.
Overall, lightweight composite toe work boots are ideal for anyone who demands comfort, breathability, and optimal fit in physically demanding environments. 
To find the best Twisted X composite toe work boot for you, ask one of our many retailers or learn more at by visiting Twisted X.