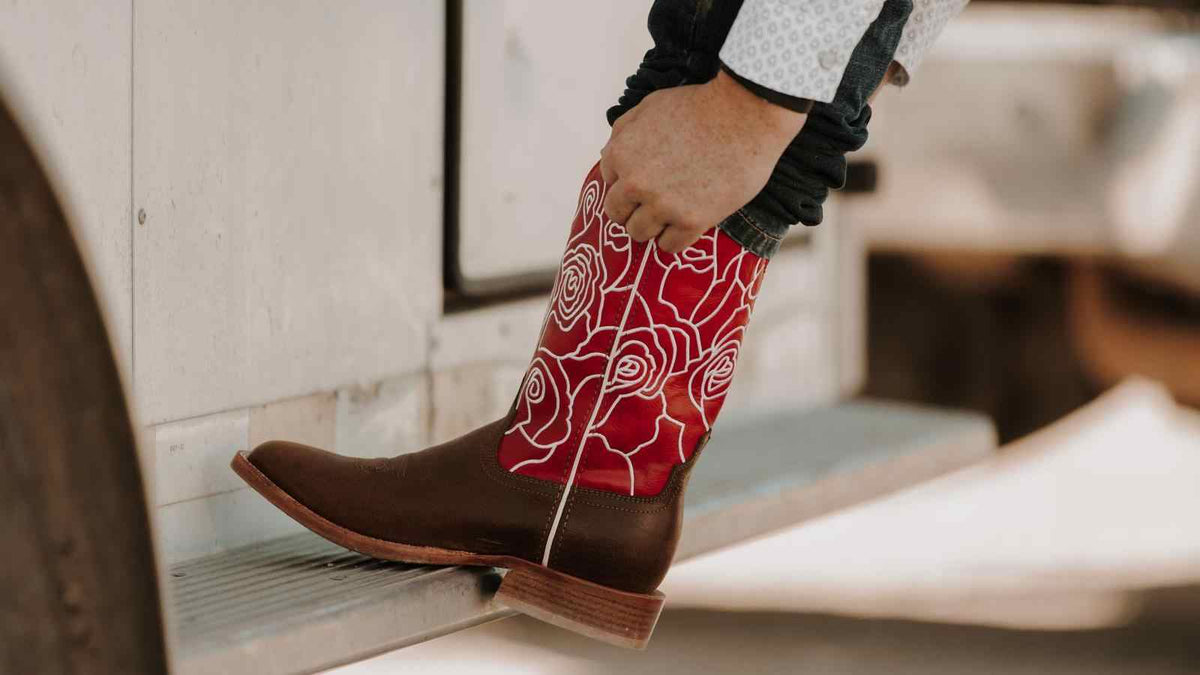 Trending Now: Western Fall Fashion
Fall 2023 Fashion Trends
Cooler temperatures are just around the corner and we're dreaming of cozy layers finished off with a selection of the season's best footwear. Whether you're stepping out for a day at the pumpkin patch, trekking across a college campus to class, or working outdoors during harvest, these options are fashion-forward and functional for every activity on the calendar.
Ravishing Reds
Deep red is predicted to be the statement color of the season this year and we understand the appeal! Paired with your favorite denim or leather pieces, red will be the perfect seasonal pop of color to finish off your look. These red styles, including both casual and fashion-forward designs, will keep you on trend and comfortable to boot.
11" Western Work Boot (WLCS003)
Break out the burgundy in this fall-ready work boot style! A deep red leather shaft is fashion-forward for the barn, arena, and beyond.

 12" Hooey Boot (WHY0013)
Effortlessly make the transition from summer into fall with these red floral boots. Florals continue to be a timeless touch of delicate detail, complementing the warm toned leather with hues of red, subtle yellows, and soft blues. This boot carries your wistful summer memories right into the fresh start of fall, making your gradual wardrobe change a walk in the park.
 
11" Tech X™ Boot (WXTL003)
You don't have to sacrifice style for function. In the arena or the workplace, the Tech X boot is made for wearable all-day comfort featuring CellStretch® Comfort Technology. Finished off with red rose detailing, this style is a well-rounded choice for the work days ahead.
Warm Neutrals
When it comes to fall style, you can never go wrong with a selection of warm neutrals. Style them with your go-to chilly weather coats - leather, wool, or fur; warm neutral footwear will go with everything you keep in your closet. Stay cozy and effortless with these well-rounded options.
4" Wedge Sole Boot (WCA0074)
Lace up a timeless pair of boots that blend style and function seamlessly. The Wedge Sole Boot features durable full-grain leather in rich chestnut tones finished with contrast stitching and snug lace up details. Wear these for those quintessential fall activities such as a visit to your local fair or a long walk through falling leaves on crisp mornings - you'll leave these boots by the door to take with you every day!
Slip-On Loafer (WCL0022)
Embrace a traditional Western look with this tooled leather pattern slip-on loafer. Rich brown leather complements this rustic design for an all-around pair of casuals you'll slip into for every occasion.
9" All Around Work Boot (WWF0010)
Weekend nights are made complete with this textile patterned bootie. Shades of cream and deep brown pair well with any wash of denim, or color of dress from your wardrobe. Bring these to a casual brunch with friends, or dress them up for date night- wherever your feet find you this fall, you can feel comfortable and confident in these booties.
12" Western Boot (WWT0037)
If you wear only one boot this season, make it the 12" Western Boot in the perfect shade of brown. This pair of fashion boots is made to be a staple in your wardrobe, complementing every piece you put on with a touch of classic leather detailing and supreme comfort.
Cozy Shearling
Keep it cozy in shearling footwear you'll never want to take off. Whether you're staying warm by the fire or running errands on a cool morning, shearling will keep you snug and warm for the ride.
Chukka Driving Moc (WDM0153)
Pull on a timeless pair of casuals with a cozy twist. The Chukka Driving Moc with a shearling lining is cold weather-ready and easy on your feet- allowing you to go further this fall. Available in a beautiful burgundy leather, these Driving Mocs check all the boxes in fashion and comfort features.
6" Wedge Sole Boot (WCAW002)
Get ahead of inclement weather in a pair of shearling-lined boots you'll lace up for years to come. Crafted in supreme comfort and using high-end materials, the 6" Wedge Sole Boot is both timeless and durable enough to withstand the elements.
Slip-On Kicks (WCA0077)
Slip into a rustic pair of casuals that are as cute as they are cozy. Featuring a Sheepskin leather upper, genuine shearling lining, and wool-lined footbed, these Slip-On Kicks are designed with insulated warmth in mind.
Work Hiker Boot (WHKA001)
Hit the trails under the changing foliage with these tan leather hikers! This classic style boot is rugged enough for camping trips, hiking, or traipsing around fall festivals, but designed with the kind of versatility to complete any quintessentially autumn look when paired with leggings or dark denim and a cozy flannel. These hikers will become a staple for all your chilly outdoor adventures this season.
Learn more about the Twisted X Footwear Collection by visiting our website or exploring our collection at a local retailer near you.