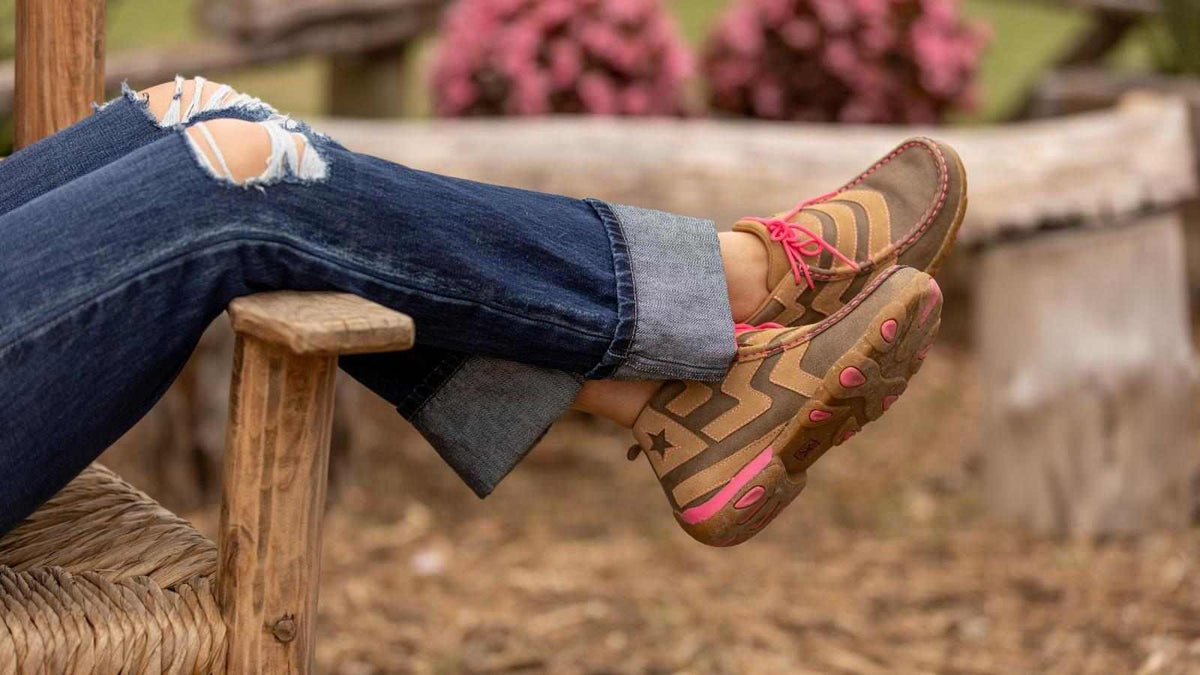 Trending Now: Graphic Accents
2023 has become known as the year of Dopamine Dressing, that is, mixing and matching colors and patterns in bold, new ways. From the color of the year being named "Viva Magenta," to the incredible popularity of Barbie Pink, to the return of neons and bright hues in clothes and accessories, it's safe to say we are learning to fall in love with color and texture all over again.

Footwear has been no exception to this blazing hot trend as more people reach for statement pieces that are outside the lines of neutral. We've embraced the trend by working with artists and designers who truly have their finger on the pulse of bold, imaginative style that we combine with supreme comfort and sustainability.
Ready to step out in something daring? We knew you were a trend setter! Flaunt your confidence in these stand-out casual styles that are sure to turn heads wherever you wear them. 
SLIP-ON KICKS (WCA0062)
Washes of vivid color take on a watercolor effect in the design of this eccentric pair of slip-on Kicks. Following the trend of daring color combinations and happy, upbeat design, these casuals will instantly lift your mood.
 
SLIP-ON KICKS (WCA0061)
Modern art meets Western in this slip-on style of Kicks. This original pattern plays with funky, retro patterning and color blocking that speak to the Dopamine Dressing trend. Experiment with personal style and don't be afraid to express yourself in these truly unique casuals! 
CHUKKA DRIVING MOC (WDM0149)
Play with texture while sporting these unique Chukka Driving Mocs, featuring two leather tones that create a 3-D effect across the shoe, as well as a pop of pink in the stitching and outsole; this style is made for those who push the fashion envelope in the barn and beyond.

KICKS (WCA0037)
Embrace a sense of carefree whimsy with a bright and summer-y pair of Kicks. Featuring a vibrant tie dye print, these casuals will bring a pop of color to every outfit in your wardrobe without sacrificing comfort and practicality.
KICKS (WCA0036)
Step out of your fashion comfort zone with timeless tweed. This pair of Kicks comes in an elegant shade of blue that comes alive when mixed into the woven tweed texture. Pair these with white for summer or denim year round - you can't go wrong with this fashionable statement.
 
SLIP-ON LOAFER (WCL0018)
Daring black and white roses dot this unique slip-on Loafer designed by the ever-talented artist Olivia Bennett in collaboration with Twisted X®. Olivia's appreciation for nature is portrayed in her own unique artistic style that instantly elevates your everyday look.
KICKS (WCA0026)
A simple base featuring a delicate floral design, these Kicks are a subtle way to put some sunshine in your step. Embrace your connection to the natural world, every time you slip them on, whether you're headed to the grocery store, to work in the barn, or to take a leisurely stroll: keep your feet grounded in warm, earthy tones and let your confidence shine!
 
KICKS (WCA0076)
Your style is bright and bold, and these Kicks can back it up- even with a mini-me! Featuring a gorgeous red leather, embossed floral accents, and matching red laces, this casual shoe is a monochromatic statement you'll want to duplicate!