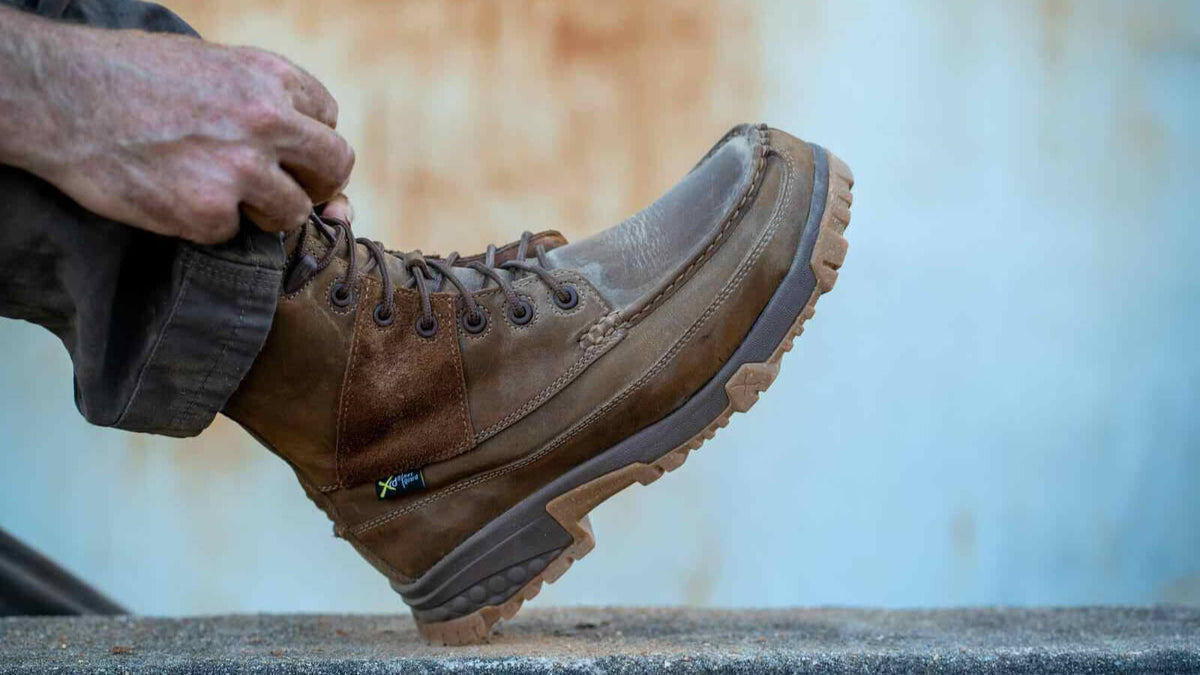 Are composite toe work boots right for you?
Safety work boots with composite toe protection are lighter than steel-toed boots and offer several benefits.
To be both successful and safe at work, you have to be on your toes. That becomes tough, however, if your toes get injured on the job. That's why proper work boots are so important. But when it comes to selecting the best boot to protect the lower digits, what's your best bet?
There are numerous choices available in the market. And most work boots come with some extra protection for the toes. But do they offer equal protection or comfort? It's easy to understand, for example, how a steel-toe boot offers outstanding protection. Steel is strong. It's also heavy. Can a composite work just as well?
Composite toe work boots have become popular among those of us working in demanding environments, such as construction sites, factories, and warehouses. They're designed to provide maximum protection for your feet while ensuring comfort and durability. Rather than using steel to cover the forward toe area, composite protection generally consists of a mixture of heat-resistant and strong plastic, carbon fiber, fiberglass, and synthetic fibers and is made to pass the same OSHA safety requirements as steel toe work boots.
Benefits of composite toe work boots
When choosing a pair of safety work boots, you need to know that they'll be able to deal with anything your work environment throws at them. Here's why composite toe boots might be a good choice for you:
They protect your feet. Composite toe work boots are strong and durable. Combined with a protective toe cap, they are designed to absorb impact and protect your toes from rolling and falling objects.
They're lighter than steel toe work boots.  Saving just a few ounces can make a big difference when you're on your feet all day. As a result, a lighter work boot can make your work day more comfortable. Thanks to nanotechnology, manufacturers can manipulate the materials in work boots at an incredibly minute level. The result means lighter safety toe footwear with better protection and durability. And now, work boots can feature nanocomposites that are even thinner and lighter, while remaining strong enough to meet ASTM standards.
They're better for extreme weather. Anyone who has stuck their tongue on metal during the winter knows how cold metal can get. Conversely, anyone who has sat on the hood of a car on a sunny day knows how hot it can get. Steel holds cold and high temperatures more than composite materials. And that can make a difference in how your feet feel.
They provide more electrical hazard protection. Unlike steel toe work boots, composite toe work boots are made of non-conductive material which can help to defuse the risk of electrical charges passing through your boots to your feet.
They're non-metal and non-magnetic. It's a hassle to unlace and take off your boots at the airport. Now imagine having to do that every day if your work requires going through security checkpoints regularly and often. Because there's no metal in the toe area, composite-toe work boots won't set off metal detectors. Composite toe work boots are ideal for people who work in areas where magnetic fields can interfere with their work.
Features of composite toe work boots
How do composite toe work boots provide similar levels of protection as steel toe work boots without the weight and bulk? The main reason is the materials used in their construction. Carbon fiber, fiberglass, and plastics are noticeably lighter than steel. Yet, they are strong and durable—and most importantly—designed for comfort.  
Most composite toe work boots feature cushioned insoles, padded collars, good arch support, and slip-resistant soles to ensure you can work safely and comfortably for long periods of time. They may feature laces or straps to adjust the fit and provide additional support. Some styles offer larger toe boxes to accommodate wide feet. You can also choose from a wide range of styles and sizes to fit both your work requirements and your personal tastes. For example, you can find composite toe work boots in 8" high-top lace-up boots, 4" lace-up boots, 6" slip-on boots, mocs, canvas kicks, or Western-style boots. 
One advantage of composite toe work boots over steel toe boots lies in their non-conductive qualities: composite materials don't conduct heat as efficiently as steel, so these boots can help keep your feet cool and dry in hot or humid conditions. This can be especially important if you work in hot and humid environments and want to prevent blisters or athlete's foot.
Nanotechnology and work boots
Safety work boots are made to prevent punctures or protect you when big heavy things might fall on or roll over your feet. So it might seem counterintuitive to think of how nanotechnology—engineering materials only 1 to 100 nanometers—can improve footwear.
Thanks to this technology, you can protect your toes by wearing work boots reinforced with composite materials made of durable nanoparticles, allowing for more lightweight footwear. In a nano toe, the nanoparticles are arranged in a way that makes them more resistant to bending or cracking under pressure and more resistant to wear.
Choosing the right composite toe work boots
When choosing composite toe work boots, it is important to consider the safety features, durability, size, and, of course, comfort. Because they come in so many different styles, they are ideal for a wide range of occupations that require foot protection. Some of the most common are construction workers, electricians, mechanics, warehouse workers, and anyone working in an industrial setting. Most businesses calling for personal protection equipment and footwear have very specific requirements. Make sure you understand your workplace's safety requirements before making a purchase. For example, if you need electric hazard protection, make sure your boots have the required EH-rating.
Because you'll put your work boots through the proverbial grinder, make sure you choose a pair that can take a lot of wear and tear.  Look for high-quality materials that are made to last—especially for the outsole and the upper material. For uppers, full-grain leather generally is long-lasting and offers excellent water resistance. On the other hand, canvas and synthetic materials can provide lightweight comfort and breathability. For soles, you'll want puncture-resistant and anti-slip materials.
Since you'll be wearing your work boots for long hours, it's important to choose a pair that is comfortable and offers good support. Look for boots with ample cushioning, arch support, and breathable materials.
As for size, choose a pair of boots that provide enough room for your toes to move around comfortably. Avoid buying boots that are too tight or too loose, as they can cause blisters, calluses, or other foot problems.
If you work in a wet or muddy environment, you may want to consider boots with waterproofing features to keep your feet dry and comfortable.
How to care for composite toe work boots
Composite toe work boots don't require special maintenance different from any other work boot. To ensure that your boots last longer, follow these care tips:
Break-in your boots. Right out of the box, breaking in your boots before wearing them on the job site will help ensure greater comfort when you go to work. Wear thick socks and walk both indoors and outdoors to get a feel for different terrains. Bend the boot at your toe. Step on the heel. Put them through all the motions. If you have leather boots, you might want to apply a leather conditioner to moisturize your boots, making them more supple.
Wear them properly. If you have lace-up boots, don't walk about with them unlaced or only partially laced. If you don't tie your boots up, your feet and ankles slide around and cause the lining to wear prematurely.
Clean your boots regularly using a soft brush and mild soap. Grime can dry out leather and rubber and cause it to crack. Regular cleaning will help your boots to last longer.
Allow the boots to dry naturally after cleaning. Avoid direct heat.
Condition leather regularly. Leather has pores and natural oils which help it to remain in good condition. Using a leather protective or conditioning cream or polish at least every month or two will help keep your boots from drying out and cracking.
Store your boots in a cool and dry place when not in use.
Your composite toe work boots will protect your feet well as long as you treat them well.
Composites can go toe to toe with steel.
Because they're lighter than steel toe work boots, composite toe styles can be a great choice for safety shoes. At Twisted X®, we hand craft work boots in all sizes and shapes—as innovative and environmentally friendly as possible.

Check out our collection of work boots to explore the safety features you need and the styles you want. Or find our collection at a local retailer near you.