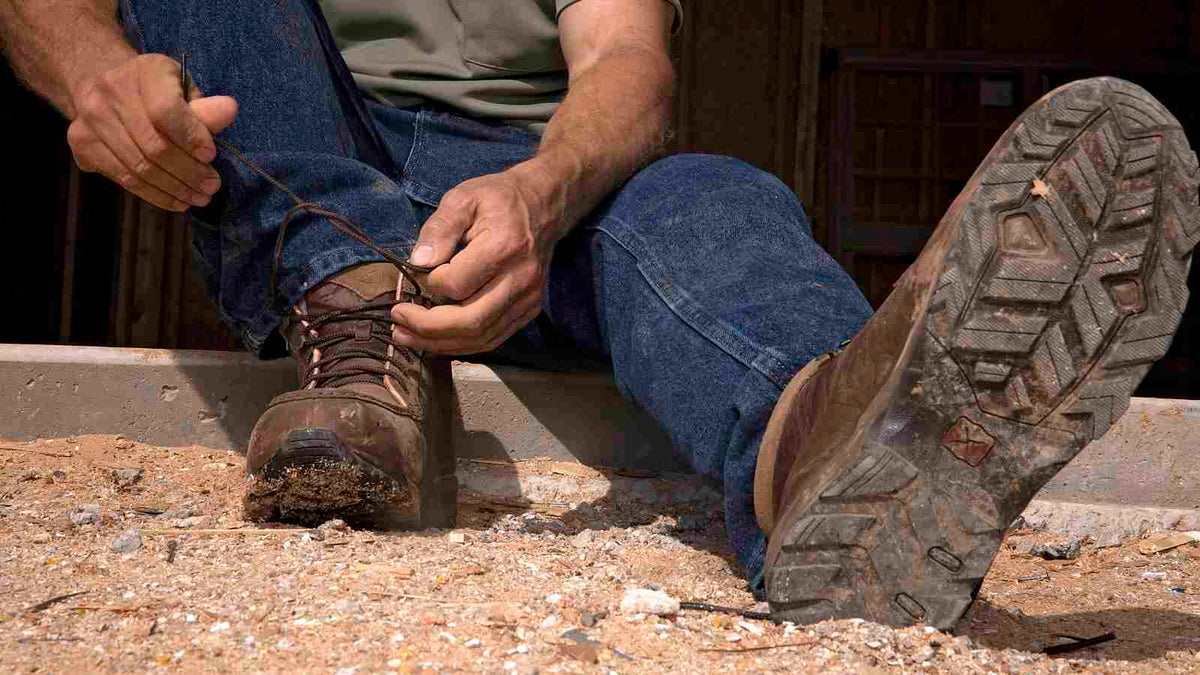 The Best Work Boots: A Comprehensive Guide
As a hard-working man or woman in the blue-collar world, you know the importance of finding work boots that withstand the most challenging conditions. Your boots are more than just footwear—they're your trusted partner, supporting you through long, demanding days on your feet. Investing in the best work boots is the secret to all-day comfort. When you need to upgrade your boots, knowing the best features for safety and comfort will allow you to focus less on your feet and more on your job.
Power Up Your Protection
When it comes to the best work boots, protection is a top priority. From several toe-cap options to slip-resistant soles, our work boots are equipped with the best protection on the market.
Our Favorite Safety Features
There are many safety features available in different styles of work boots. We've highlighted our favorite cutting-edge features that provide the best protection.
Alloy Toe, Nano Toe, Composite Toe, and Steel Toe: Our work boots have various toe cap options, including alloy, nano, composite, and steel. These toe caps offer superior protection against impacts and compression, meeting ASTM industry safety standards and keeping your toes safe from potential hazards.




Chemical Resistant: Our boots are designed to provide protection from a variety of hazardous materials or other difficult day to day substances encountered on the job. The chemical-resistant properties ensure your feet remain safe and secure even when surrounded by danger.




Electrostatic Dissipative: Static electricity can be a genuine concern in certain industries. Our work boots feature electrostatic dissipative properties, meaning they conduct static electricity through the linings, insole, outsole, cement, and into the ground. This prevents the buildup of static electricity in your body, keeping you safe from electrical hazards.




METGUARD™: METGUARD is a thermal plastic urethane shield that overlays the toe and runs along the top of the instep. It provides armor-like protection, ensuring your feet remain safe from impacts and crushing forces.




VIPERGUARD: Our VIPERGUARD technology is designed to protect you from piercing fangs and lethal venom. With a combination of 2mm leather, sandwich mesh, and 1.5mm ViperGuard lining, these boots keep you safe in snake-infested environments.




UltraLite XTM: Our UltraLite X outsoles are created with a unique EVA compound, making them lightweight and comfortable. Even though they are light, they provide excellent support and durability, making them ideal for long days on your feet.




Electrical Hazard Protection: Tested and certified by the ATSM, our work boots offer reliable protection against electrical shocks. You can work with peace of mind, knowing your feet are safeguarded against potential electrical hazards.




Oil & Slip Resistant: The molded rubber outsoles on our work boots are oil- and slip-resistant. This feature provides excellent traction, reducing the risk of slips and falls in slippery work conditions.



BarnShield™: Some of our work boots are coated with an extra shield of oils and waxes known as BarnShield. This coating enhances durability and protection, making the boots more resistant to wear and tear.
The Best Work Boots with Comfort and Durability at Your Service
Hard-working people like you deserve boots that can keep up with your tireless efforts. Twisted X® work boots are crafted with comfort and durability in mind because we understand the value of aching-free feet and long-lasting durability. Say goodbye to foot fatigue with our cushioned insoles. These remarkable features absorb the impact of each step, energizing your feet and ensuring you stay focused on the task at hand. Our boots promote breathability and keep your feet cool and dry, no matter how demanding the job gets.
Twisted X Features for Ultimate Comfort
We've incorporated innovative features into our work boots to provide you with the ultimate comfort experience. We have the right combination, from insoles to materials, to give every foot the best wearing experience.
CellStretch™: Our work boots feature CellStretch, an interconnected network of comfort cells that compress and rebound with every step you take. This advanced technology ensures that your boots provide maximum cushioning and support, alleviating foot fatigue and keeping you comfortable throughout the day.




CellSole™: For even greater comfort, our work boots are equipped with the CellSole footbed. This footbed incorporates CellStretch comfort technology, offering all-day cushioning and support. With every step, the CellSole footbed absorbs shock and provides a responsive feel, allowing you to focus more on work and less on your tired feet.




DuraTWX®: Our hybrid performance leather, DuraTWX, is designed for extreme environments and offers exceptional comfort. This high-performance leather is breathable, allowing air to circulate and keep your feet cool and dry. It's also water-resistant, so wet conditions are no problem. DuraTWX is also anti-abrasive and anti-corrosive, ensuring your boots stay durable and comfortable over time.




Genuine Shearling: Some work boots feature genuine shearling lining for added warmth and comfort. Shearling, made from sheepskin, provides insulation and a cozy feel during colder weather.




Waterproof: Our waterproof work boots create an impenetrable layer of insulation, ensuring your feet stay dry and comfortable throughout the day. The boots are designed to allow trapped moisture—like sweat—to escape, promoting breathability.




Lightweight Design: We understand that heavy boots can weigh you down, both physically and mentally. That's why our work boots are designed to be lightweight without compromising durability. The lightweight construction reduces fatigue and allows you to move freely, improving overall comfort and productivity.



Arch Support: Proper arch support is critical for maintaining comfort throughout the day. Our work boots are engineered with arch support in mind, ensuring that your feet are correctly aligned and supported. This feature helps distribute weight evenly, reducing strain on your feet and minimizing discomfort.
FITTED FOR YOU
Whether you prefer lace-ups or pull-ons, our boots come in various heights and options, ensuring you find the best work boots for your needs. We understand that every person is unique, which is why our boots are available in wide or narrow sizes, with half-size options. We want you to feel comfortable from the moment you put on your boots.
The Best Work Boots: Signs of a Properly Fitted Work Boot
Everyone's feet are unique, and what feels comfortable for one person may not be the same for another. Try different styles and sizes of work boots to find the perfect fit for you.
Toe Room: When trying on work boots, make sure there is enough room in the toe area. You should be able to wiggle your toes comfortably without feeling cramped. This extra room allows for natural movement and prevents discomfort.




Snug Heel Fit: The heel of your boots should fit snugly without slipping up and down as you walk. A proper fit in the heel area ensures stability and prevents blisters. You can test the fit by walking around and paying attention to any excessive movement or slippage.




Arch Support: Check if the arch of the work boot aligns with your natural arch. Proper arch support is crucial for maintaining foot comfort and preventing fatigue. The arch should provide support without feeling overly tight or constricting.




Secure Laces or Closures: Whether your work boots have laces or are pull-ons, ensure they can be securely fastened. This allows for a customized fit and prevents the boots from shifting or rubbing against your feet during work.




Comfortable Width: Work boots come in different widths to accommodate various foot sizes. Ensure that the width of the boot matches the width of your foot. You should feel comfortable with no pinching or squeezing around the sides of your feet.




Proper Length: The length of your work boots should provide ample room for your feet, including your toes. There should be approximately a thumb's width of space between the tip of your big toe and the end of the boot. This allows for natural movement.




No Pressure Points: Walk around in the boots and pay attention to areas where you feel excessive pressure. Pressure points can lead to blisters, sores, and foot pain. Ensure that the work boots distribute pressure evenly across your feet.



Break-In Period: Keep in mind that work boots may require a break-in period. In the beginning, they might feel slightly stiff or tight, but they should gradually mold to the shape of your feet and become more comfortable with wear. However, if you experience persistent pain or discomfort after the break-in period, it may indicate an improper fit.
CONQUER THE DAY WITH COMFORT AND DURABILITY
Quality work boots are a vital investment for your well-being and protection in your work environment. By choosing reliable work boots, you are equipping yourself with the necessary tools to work hard and stay comfortable. At Twisted X, we take pride in our commitment to crafting top-quality work boots that allow you to tackle your job easily. We take working hard seriously, which is why we work extra hard to make it easier for you to work hard.
Learn more about the Twisted X Work Boot Collection by visiting our website or exploring our collection at a local retailer near you.